Annual skimboard competition offers good fun for an even better cause
by Anuhea Yagi writing for Maui Time Weekly
June 09, 2011 | 01:13 PM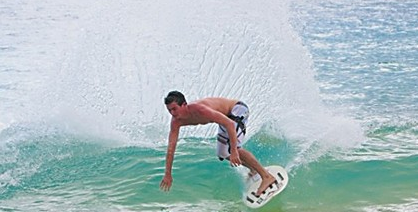 Makena Get A Witness
Annual skimboard competition offers good fun for an even better cause
Fourth Annual Save Makena Skim Board Contest
Saturday (June 11), 8am, Oneloa (Big Beach) at Makena State Park; free for spectators
"On the island / We do it island style / From da mountain to da ocean / From da windward to da leeward side." — Ka'au Crater Boys, "Island Style"
Like battles, friends and noses, skimboarding is all about picking the right wave. With skimboards in hand—i.e. the surfboard's stouter, skinnier, skeg-less sister—riders stand on the sand several yards from the shore break and await the perfect moment.
Just after the wave breaks, but before it recedes (to maximize their relative speed), skimboarders run toward the surf, thrust their boards onto the wet sand and—with funambulists' deft—leap-on for a hydroplaning ride into the rest of the oncoming set.
Skimboarding's history can be traced to the 1920s in California (think adventurous—and maybe slightly bored—Laguna Beach lifeguards plus a pile of plywood). As the sport grew in popularity, the technique evolved as well. And those who've earned mad skills can then show off their amphibious acrobatics, carving and catching air off the coiling crests.
Organizations like the Hawaii Amateur Skimboarding League (HASL) aim to further the sport by encouraging members to make the step to sponsorship and professional competition; and local businesses like Maui Skimmers—a board manufacturer with a quarter-century tenure—not only outfit enthusiasts, but help give the local scene clout.
So it makes sense that both the HASL and Maui Skimmers are key sponsors of the Valley Isle's own competitive installation, the 'ohana-friendly, all-ages Save Makena Skim Board Contest—which this year marks its fourth installment with the Maui Melee 2011.
But as the event's name implies, the contest is about more than sensational sport (and spectating)—it's about the environment that inspires it. Makena—namely Oneloa (colloquially, Big Beach), part of the 164.4 acre Makena State
Park—is one of our isle's rarefied jewels, and partnering event presenters Save Makena and Maui Tomorrow aim to keep it that way.
***
The state park doesn't exist in a vacuum," says Angie Hofmann, Save Makena's community organizer and Youth Advisory Board member for Maui Tomorrow. "It exists within a whole community of places to live and be and work."
Hoffman says her passion for the Makena area stems from having grown up in South Maui. And, as an avid skimboarder herself, the event is especially near and dear to her heart. Her holistic idea of Oneloa, too, aligns nicely with the theme of this year's competition, "Malama Makena from the mountains to the sea."
As described by Project Ka'eo—a research effort supported by a grant from the Office of Hawaiian Affairs with matching funds from Maui Tomorrow—archaeological evidence shows that aboriginal Hawaiians lived in and cultivated the area's natural abundance for more than a millennium, planting staple sweet potato patches in sandy loams and utilizing the abundance of the forests for "materials for housing, tools, medicine and canoe building."
However, Project Ka'eo reports, despite its scientific significance, knowledge of the area is still severely lacking, with "the majority of archaeological reviews [appearing] hurried, fragmented or unsupported," as these "studies [have] been conducted to meet permitting requirements for golf course, resort and home construction."
"Over the years, there's been booming development," says Hoffman. "It's quite an interesting community in the sense that there are a lot of issues that surround an area with that kind of rapid growth," she adds, citing hot button development projects like Wailea 670/Honua'ula.
"I think what really blows people's minds is when they see how much growth has already occurred and then learn how much more has been approved on the land they call home," says Hoffman. "[Save Makena's] basic goal is that we want people to be aware of the issues as well as know how they can get involved to voice their opinion."
At the same time, Hoffman emphasizes, the goal isn't to stop all development. Rather, she says, "it's about identifying what it represents, who it represents and what we want future generations to inherit."
***
Though the deadline for entry into the 4th Annual Save Makena Skim Board Contest has passed, attendance is encouraged (park in the second, southernmost state park parking lot, and walk south). Spectators will enjoy light refreshments courtesy of restaurants like Flatbread Co. and Lulu's Kihei, and get a chance to learn more about Save Makena and Maui Tomorrow's initiatives at their informational booths. And who knows? You might be inspired to take up skimboarding yourself.