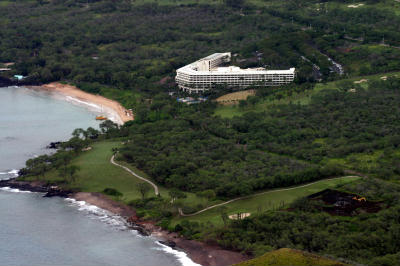 Click photo for hires image
Cultural remains suggest a coastal fishing village (spanning from as early as 1000 AD, to modern times) once covered this part of the Makena shoreline from Makena landing to Pu'u Ola'i. Old stories tell of a spring with fresh cold water here in the lands of Maluaka, a sacred coconut grove known as Nahawale (perhaps located on the former Crown Lands where the Maui Prince Hotel now sits) and several heiau. The remains of some of this village, represented by dozens of cultural features, including a heiau or fishing shrine, lay hidden in this quiet forest.
Makena Resort owner's company spent 6 moths bulldozing and blasting this forest to create the exclusive Maluaka gated community. Originally 69 condos, now 13 luxury house lots and a three story "Beach Club" for members only. Will this peaceful shoreline and its abundant reefs be transformed forever by this and other planned Makena Resort developments?
In 2004, then Councilmember Tavares proposed that Makena Resort donate the 11 acre Maluaka site as a park in trade for hotel zoning on a nearby 28 acre parcel. Makena Resort owners, Seibu Corp, rejected this "condition" and sold the two parcels to Everett Dowling and his hui of investors for over $30 million
Through diligent citizen efforts the Oneuli Heiau and a burial site will be preserved as landscape features behind the gated walls of the Maluaka project. Several additional burials, discovered during bulldozing, will also be preserved on the site.
This is only the beginning of the new GREEN Makena that the Makena Resort investors have planned for wealthy offshore buyers. Want a different future for Makena? Stand up and be heard.