PaveMaui.org Photos of Palauea with selected text from the site
With the Rains Comes the Runoff… (December 1, 2003)
Nope, this ISN'T a copper mine in Borneo.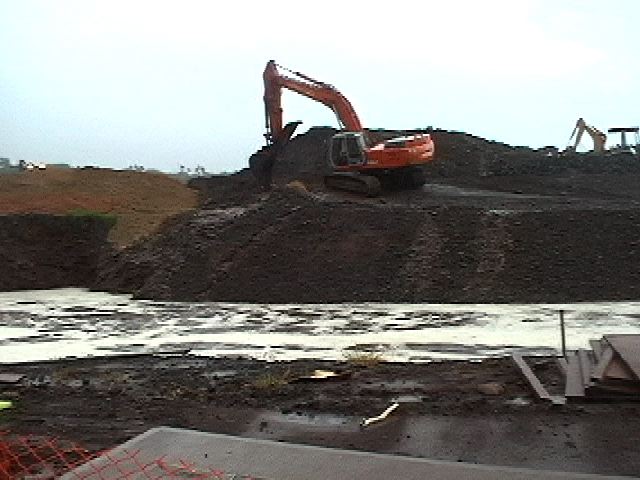 It's right across the street from the posh Hotel Fairmont Kea Lani and the million-dollar Polo Beach condos at the south end of Wailea, Maui. This is runoff happening right before your very eyes. This large Hitachi steamshovel is busy moving dirt to prevent the large mound of goo behind it from falling into the rushing river in the foreground. This channel is normally bone-dry, but today there was 3 inches of rain upcountry and it all comes down through here. This appears to be a gross violation of EPA runoff laws, but no one there seemed to care; we talked to a worker and he said "You can't stop mother nature"…
photos courtesy of Jack Hammer, crack reporter
This Location is 200 yards from the ocean!
This gawdawful mess is brought to you by the developer of Makena Resort. The 'development' is called "One Palau'ea Bay", "Maui's Historic Garden". It is being sold through Coldwell Banker.
Can you imagine what the ocean looked like? (200 yards from the big steamshovel and the pile of dirt)… Well, as far as you could see, there was runoff in the ocean, the sea was chocolate brown and there were hundreds of objects floating around out to 1/4 mile out. Also, as the debris from the runoff came back ashore, it yielded thousands of cockroaches running inland from the beach. I bet the fellow who bought the $6 million dollar home shown below was a bit surprised!
Well, just check out these photos:
$6 million dollar home fifty feet from the runoff; two shots of runoff going into ocean
Adding insult to injury… "maui's historic garden" being bulldozed… "don't remove the rocks" unless you have a big tractor!
photos courtesy of Jack Hammer, crack reporter