The future of Wailea 670 and Makena Resort Developments is still being decided. Stay Involved. Your Voice Counts!
Key dates coming up:
June 1 10am: Urban Design Review Board reviews Wailea 670 Master Plan downstairs meeting room 250 S. High St (Planning Commission meet room) testimony taken. UDRB has jurisdiction over landscaping, protection of exceptional trees, drainage, community design etc.
June 30 Wailea 670 Draft EIS comments due (date extended from June 7) for an easy view of sections of this 1000 page document go to: dynamics.org/Wailea670/2010/
Need support in sending comments? email us
Send the Draft EIS comments to each of these addresses or emails:
Applicant: Honuaula Partners, LLC, Charles Jencks, P.O. Box 220, Kihei, HI. 879-5205 or via email:   Charlie Jencks
Accepting Authority: County of Maui, Planning Department/Planning Commission, 250 South High Street,Wailuku, HI 96793. Kathleen Aoki, Director, 270-7735 Address comments to Deputy Director: email: Ann Cua
Consultant: PBR HAWAII, 1001 Bishop Street, Suite 650, Honolulu, HI 96813. Tom Schnell AICP, 521-5631 sysadmin@pbrhawaii.com
Wailea 670 is required assess environmental conditions for its 670 acre proposed golf course development before further approvals can be granted. Although considerable questions remain regarding water supply, drainage, buffer zones for neighboring properties, traffic impacts, protection of native flora and fauna and cultural sites, the draft EIS concludes there are no problems.
June 22 9am: Maui Planning Commission: Wailea 670/ Honua'ula Draft EIS will be discussed by Maui Planning commission 9 am downstairs meeting room 250 S. High St (Planning Dept Building)
---
What does the EIS Prep notice say?
In a nutshell, it appears from the maps and the text of the EISPN, that up to 20 species of native Hawaiian dryland forest plants, endangered native fauna, inter-related complexes of cultural sites and traditional access routes are being minimized and dismissed as not worthy to survive in their own home.
As such, the current development plan would squeeze indigenous creatures and cultural sites down from around one fourth of the 670 acres to less than 4% of the land.
Major impacts and issues discussed during the county council hearings, like viable water source analysis, possible desal facility, sewage disposal, drainage, land titles, lack of emergency evacuation routes, traffic impact to Kihei and Wailea neighborhoods and recreational access to nearby beaches are not seen as a problem. What do you think?
This EIS will eventually go to our Planning Commission as part of their review of Phase II of the W-670 Project District Approval. We have waited 20 years for updated Environmental review of this project. It should address the real issues and offer mitigations.
EIS prep notice for Wailea 670- Honua 'ula was issued on March 8, 2009 in OEQC bulletin. Comments are due by April 7, 2009.
See Unilateral Conditions (No. 9, 13 & 27) that run with the W-670 County of Maui rezoning approval, in case you have need to refer to them.
Read the Final Conditions Approved for Wailea 670 (aka Houa'ula)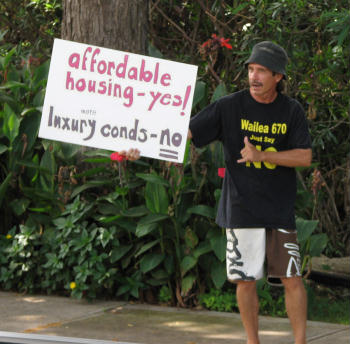 WAILEA 670 – Preliminary INJUNCTION GRANTED by Judge Cardoza
Attorney Lance Collins represented five individuals who questioned whether the County Council acted properly in holding a long succession of recessed meetings, — allowing the developer to make comments and participate, but NOT allowing the general public to testify again.
Wednesday morning, April 23, Judge Cardoza agreed and issued a preliminary injunction halting further action on Wailea 670.
See Reality Check to dispell the misinformation.
Wailea 670, Honua'ula, is a proposed development of 1400 units, a golf course, shopping center and sewage treatment plant which would sprawl from Maui Meadows to Makena. The Maui County Council is expected to hold a public hearing and vote on this project sometime in June, 2007. Please take action now.
Sign the Petition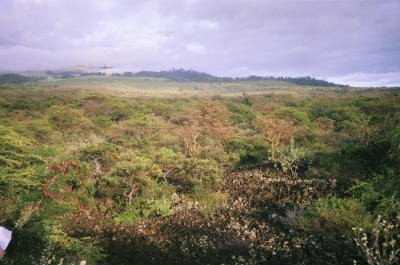 Last eminent of Native Dry land Forest Will Be Destroyed
See more photos of this Remnant Dryland Forest